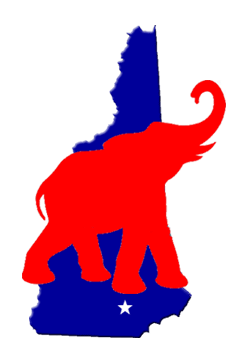 ABOUT THE BEDFORD REPUBLICAN COMMITTEE
The Bedford Republican Town Committee exists to promote the policies of the Republican Party in Bedford, NH, to assist local Republican candidates campaigning for office, to inform the voting public on issues, and to encourage citizens to vote. Anyone agreeing with these goals may join by paying the $25 yearly dues.
Read more about the Bedford Republican Committee by downloading and viewing a PDF copy of our Tri-Fold (inside page) and ByLaws.
You may join by filling out this Tri-Fold Form. Fold your $25.00 dues check in it so the middle (blank) side shows, address and stamp it, then mail to:
Membership
Bedford Republican Committee
PO Box 10050
Bedford, NH 03110
ANEDOT
Alternatively you may also use these ANEDOT buttons to pay your dues ($25.) or make a donation.
I am a Republican because…
I believe that the proper function of government is to do for the people those things that have to be done but cannot be done, or cannot be done as well by individuals, and that the most effective government is government closest to the people.
I believe that good government is based on the individual and that each person's ability, dignity, freedom and responsibility must be honored and recognized.
I believe that free enterprise and the encouragement of individual initiative and incentive have given this nation an economic system second to none.
I believe in equal rights, equal justice and equal opportunity for all, regardless of race, creed, age, sex or national origin.
I believe that Americans value and should preserve their feeling of national strength and pride, and at the same time share with people everywhere a desire for peace and freedom and the extension of human rights throughout the world.
Finally, I believe that the Republican Party is the best vehicle for translating these ideals into positive and successful principles of government.
Download this FLYER for a synopsis of Where We Stand.
YouTube Channel – BedfordRepublicans
—
Website by WebGurl Design • Photo Credits Pat MacMonagle